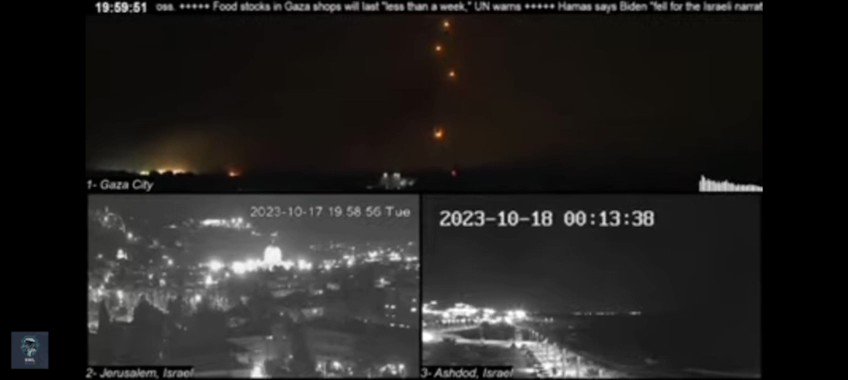 More nonsense from Pro-Hamas FSSP Rad Trads claiming immediately that the Jews targeted the Hospital.
Jews did not do it was the incompetent Muslims.
Why do the FSSP Rad Trads take the side of Hamas?
Here is CCTV footage showing that Hamas Rockets hit the Hospital parking lot killing fifty or so.
Surveillance camera footage from Netiv Haasara shows a large barrage of rockets being launched from northern Gaza, followed by a massive blast in the Strip, apparently caused by a failed projectile. pic.twitter.com/PdNCbks02r

— Emanuel (Mannie) Fabian (@manniefabian) October 17, 2023
Full recording from @ajmubasher feed.

You can see outgoing rocket fire some distance away. The rocket is intercepted in the air, and breaks apart into shrapnel.

After this 2 explosions are seen: one smaller one, perhaps on the rocket launcher, and a big one on the hospital. pic.twitter.com/upR4Dnrvsq

— Yousuf (@yousuf_tw) October 17, 2023
تغطية اخبارية| لحظة قصف الاحتلال لمستشفى المعمداني في غزة، ما أدى لاستشهاد المئات. pic.twitter.com/4IRmWIAvpd

— شبكة قدس الإخبارية (@qudsn) October 17, 2023
Breaking: IDF Spokesperson

From the analysis of the operational systems of the IDF, an enemy rocket barrage was carried out towards Israel, which passed through the vicinity of the hospital when it was hit.

According to intelligence information, from several sources we have,…

— Israel ישראל 🇮🇱 (@Israel) October 17, 2023