Church Following Jesus In His Passion - What Are Rad Trad Fathers And Mothers To Do When The Church Follows Jesus In The 8th Station: Jesus Meets The Women Of Jerusalem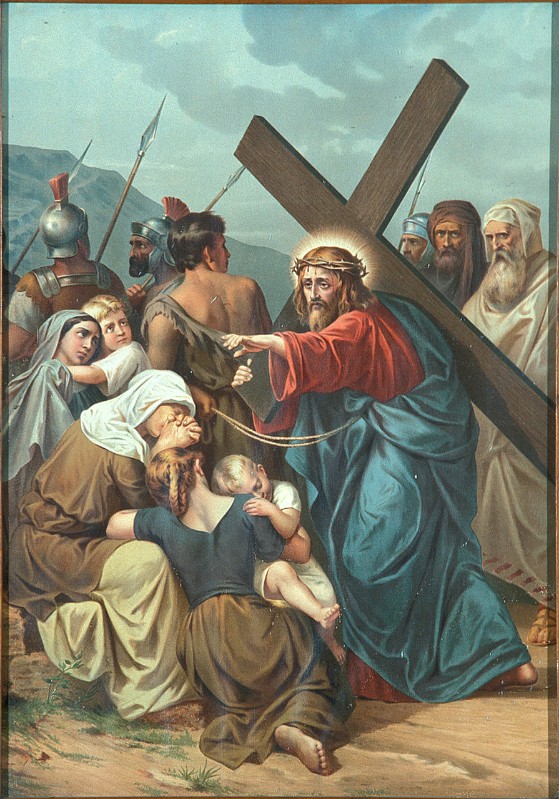 And there followed him a great multitude of people, and of women, who bewailed and lamented him But Jesus turning to them, said: Daughters of Jerusalem, weep not over me; but weep for yourselves, and for your children. For behold, the days shall come, wherein they will say: Blessed are the barren, and the wombs that have not borne, and the paps that have not given suck. Then shall they begin to say to the mountains: Fall upon us; and to the hills: Cover us. Lk 23
Rad Trads pride themselves on claiming that they have the ability and foresight to see that the Church is following Jesus in His Passion.
Yes, the Church is following Jesus in His Passion.
For instance: Jesus was judged by Two High Priests - The Church is judged by Two Popes
However ALL Rad Trads ignore this part of the Church following Jesus in His Passion.
There is another part of the Passion that I am sure Rad Trad Mothers and Fathers will choose to ignore as well:
Church following Jesus on the way of the Cross - the Eighth station:
Jesus meets with the women of Jerusalem.
Jesus tells them:
Daughters of Jerusalem, weep not over me; but weep for yourselves, and for your children. For behold, the days shall come, wherein they will say: Blessed are the barren, and the wombs that have not borne, and the paps that have not given suck. Then shall they begin to say to the mountains: Fall upon us; and to the hills: Cover us.
This will happen. This will happen to Rad Trad Families.
And when it does happen to their families I am sure that a majority of Rad Trads will leave the Church.