Timothy Gordon JD, PhL, MA, BS, Etc.....Just Got Ratioed On Twitter For Claiming That Mary The Mother Of God Never Evangelized...........
ratioed: Being revealed as an idiot on twitter by having a high ratio of comments to likes and retweets.
Keep in mind this is the same guy along with his brother David and Steve Skojec who claimed that the Covid Virus is in the Blessed Sacrament at the Holy Sacrifice of the Mass and therefore you should not received the Body of Christ.......
Here is the latest from a JD, PhL, MA, BS.........
Holy Mary is....
Queen of Angels,
Queen of Patriarchs,
Queen of Prophets,
Queen of Apostles,
Queen of Martyrs,
Queen of Confessors,
Queen of Virgins,
Queen of all Saints,
But somehow is not the Queen of Evangelists?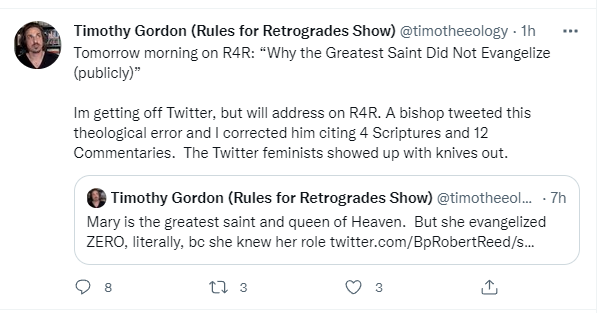 Timothy Gordon is the product of the FSSP and it shows.
The FSSP should be shut down.
Shut it down.....