FSSP DOOM? More Bizarre Demonic Behavior From FSSP Nuns: Carmelite Sisters Of Philadelphia Have Abruptly Abandoned Their Cloister And Headed To Nebraska......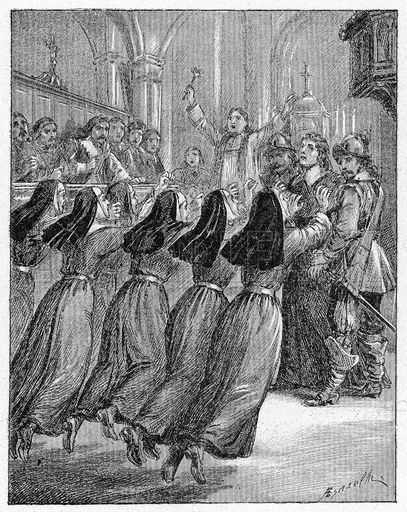 Possessed Nuns
Loudon
"In the year 1865, there will be desecration of holy places. In convents, the flowers of the Church will decompose and the devil will make himself like the King of all hearts. May those in charge of religious communities be on their guard against the people they must receive, for the devil will resort to all his evil tricks to introduce sinners into religious orders, for disorder and the love of carnal pleasures will be spread all over the earth.
Our Lady of La Salette 19 Sept. 1846
(Published by Mélanie 1879)
OCD Carmelites of Philadelphia abandon their cloister; flee to Nebraska for unknown reasons
OK this is getting strange.
The latest FSSP Doom comes from Mark Docherty he is an Apostle of Mother Ann Barnhardt. As you may or may not know most Rad Trad Influencers are FSSP Latin Mass goers. As I've said before the FSSP is off the rails. It shows in what these FSSP influencers are spreading on-line. The most famous FSSPers are Ann Barnhardt & Steve Skojec - need I say more?
Mark Docherty says that the FSSP nuns, the OCD Carmelites of Philadelphia abandon their cloister; flee to Nebraska for unknown reasons.
They left after Mass on Friday.
According to sources close to the monastery, the sudden move took place over this past weekend. On Friday, after the daily Mass, a van was noticed by the entrance to the monastery used by the cloistered sisters. Later that day, word began to spread that the sisters had suddenly departed. The sisters were reportedly driven to another Carmelite monastery in Valparaiso, Nebraska. One elderly sister is said to have remained behind in Philadelphia but all of the others, believed to be 15 young Carmelites who arrived in 2017, have all departed.
[…]

With the departure of these 15 Carmelites over the weekend, and the recent deaths of most of the original sisters in Philadelphia, the beloved monastery is left with just one elderly sister and an uncertain future. The Archdiocese of Philadelphia has not yet addressed what happened. Catholics in the Philadelphia Archdiocese learning about the departure are devastated. Source
What?
Demonic Infestation or Demonic Possession at the FSSP convent?
Mark Docherty writes:
This is Mark again. I contacted the communications office of the archdiocese for a statement, but neither my call nor email were immediately returned. I'm withholding judgment on the matter until we find out more information. I was physically present at the cloister the day the FSSP arrived there in 2017. Trust me, it's a special place. The FSSP were consequently given a mission just outside the city, at a beautiful large church in Conshohocken. I do hope they're not next. Source
Timeline of FSSP weirdness:
1.Posted by dxv515 February 02, 2020 PRIESTLY FRATERNITY OF SAINT PETER (FSSP) GUN CULTURE KILLS ANOTHER PRIEST: GUN ENTHUSIAST FR. EVAN HARKINS BLOWS HIS BRAINS OUT.....
2.Posted by dxv515 February 02, 2020 WIDESPREAD DEMONIC POSSESSION AT BENEDICTINES OF MARY, QUEEN OF APOSTLES IN GOWER, MISSOURI? PRIEST KILLS HIMSELF AFTER ATTENDING RETREAT + ABBESS AND NUNS ACTING STRANGELY
3. 1 APRIL 2021 Missouri nuns targeted in multiple 'extremely disturbing' shooting incidents, motive unknown
Something is up at FSSP.
Mark Docherty claims a reason for the bizarre behavior at FSSP convents may be related to a Vatican Document:
Impact of Cor Orans?*While we don't know the reason for the developments in Philadelphia, it is hard not to recall a recent document issued by the Vatican – Cor Orans – targeting communities of contemplative nuns which is what the Carmelites are. Cor Orans instructs monasteries to belong to a "federation of monasteries", tied together with a similar charism or shared geographical location. This basically erodes the autonomy of individual monasteries operated by individual orders such as the Carmelites. In addition, the length of formation for new nuns, previously six years for Carmelites became nine to twelve years under Cor Orans, which is an impediment to new vocations. Another requirement of Cor Orans is a "religious assistant," a priest monitoring the monastery in addition to a chaplain, assigned by the federation. This further erodes the monasteries' autonomy by giving unprecedented powers to the "religious assistant."
Source
So a document makes these FSSP nuns act crazy?