Eucharistic Miracle In The Sky Over North Carolina Mountains On The Feast Day Of St. John of St. Facundo (Sahagún) June 12, 2020 + One Day After The Feast Of Corpus Christi
12 JUNE 2020
THE EVENT
12 JUNE 2020
Longtime pilot photographs mysterious orange orb in daytime sky over NC mountains
As a 45-year pilot, Charles Cobb had never seen anything like the orange-tinged orb high in the North Carolina mountains sky on a sunny late morning in June.
The object was round and irregular, he said, and it would suddenly plummet tens of thousands of feet before soaring right back up, he said.
Cobb, an 88-year-old Korean War combat veteran, spotted the mysterious object while sitting at Silver Creek Airport in Morganton, where he visits each day to check on the 1940 Piper Cub he keeps in a hangar.
Minutes ticked by as the object and its exhaust plume hovered 30,000 feet to 40,000 feet high "toward Table Rock," Cobb said.
He was referring to the plateaued peak northeast of Asheville that's a popular tourist destination for its panoramic views of the surrounding Linville Gorge, as described by AshevilleTrails.com.
Cobb said he finally pulled out his iPad and took photos of the flying object and its "opaque" center. It was 11:18 a.m. June 12.
"It was hard to tell the size," he said, although he distinctly recalled the craft dropping at times to maybe 15,000 feet before shooting back up to at least 30,000 feet.
The object vanished at one point when he happened to look down at his iPad, but it soon reappeared, he said.
"The fact that it could zoom up almost out of sight" made this no ordinary object, he's convinced.
The craft also was "flying parallel" during the 15 to 20 minutes he watched it, he said, so it couldn't have been a comet.
"Comets come toward you," he said. This object "always pointed north."
WAS IT A PLANE?
Definitely not a comet, Bernard Arghiere, board advisor with the Astronomy Club of Asheville, agreed after The Charlotte Observer emailed the club two of Cobb's photos.
"There is no reported astronomical object, certainly not a comet, in the sky that would appear that bright on that June 12, 2020, date," Arghiere said in an email. "There were no comets then that would be that bright, so they would be visible in the daytime sky.
"It really looks to me more like sunlight reflected off a distant jet and its related condensation trail; typically, that would disappear from sight in less than 20 minutes."
"Good luck getting a definitive answer on this one," he added.
'ROUND' AND 'IRREGULAR' OBJECT
Cobb said the shape of the object is why he's certain it was no plane.
"No reflection off a jet," he said. "This object while zooming to incredible heights, and coming back down, was always heading in a northerly direction as the photos show, yet it remained in the general area that I was viewing.
"A plane of any sort passing through my viewing area would have been out of sight in a matter of a few minutes," he said.
Cobb said he's shown the photos to many pilot friends, who all are as stumped by the object as he is, including a recent American Airlines retiree who flew F4 Phantoms in the Air Force.
"None of my flying friends have any idea as to what it was," he said.
Cobb lives in Morganton and served on a Navy destroyer during the Korean War.
He said he thought the object was "a huge kite with a tail" at first.
He put it out of mind until Wednesday, he said, when he happened upon an airline pilot's account on YouTube of a mysterious object that came within 100 feet below him on a flight from Dallas-Fort Worth to Charlotte in 2003.
Source
OK what if God performed a miracle and no one came?
Image of the Blessed Sacrament in the skies over North Carolina Mountains.
No one has mentioned anything about this orb in the sky being a Eucharistic Miracle.
Our Lady of La Salette did warn:
"The demons of the air together with the Antichrist will perform great wonders on earth and in the atmosphere, and men will become more and more perverted.
Our Lady of La Salette 19 Sept. 1846
(Published by Mélanie 1879)
Miracle of the Sun at Fatima 13 October 1917:
Various claims have been made as to what actually happened during the event. According to many witnesses, after a period of rain, the dark clouds broke and the Sun appeared as an opaque, spinning disc in the sky. It was said to be significantly duller than normal, and to cast multicolored lights across the landscape, the people, and the surrounding clouds. The Sun was then reported to have careened towards the Earth before zig-zagging back to its normal position.
Source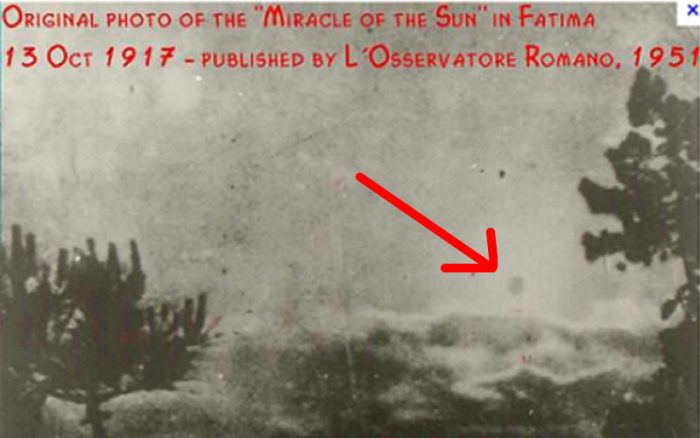 The Orb and the Sun both had similar traits
Was the devil aping the miracle of the Sun?
Or was this a true Eucharistic miracle from heaven confirming the reality of Blessed Sacrament.
Either way no one seemed to pay attention.
11 JUNE is the Feast of Corpus Christi
I like to believe that there were Corpus Christi processions in the area on Thursday?
Maybe not - because of the lockdown.....
12 JUNE is the Feast of St. John of St. Facundo
who
is represented holding a chalice and host surrounded by rays of light:
St. John of Sahagun
Hermit, b. 1419, at Sahagún (or San Fagondez) in the Kingdom of Leon, in Spain; d. 11 June, 1479, at Salamanca; feast 12 June. In art he is represented holding a chalice and host surrounded by rays of light. John, the oldest of seven children, was born of pious and respected parents, John Gonzalez de Castrillo and Sancia Martinez. He received his first education from the Benedictines of his native place. According to the custom of the times, his father procured for him the benefice of the neighbouring parish Dornillos, but this caused John many qualms of conscience. He was later introduced to Alfonso de Cartagena, Bishop of Burgos (1435-1456) who took a fancy to the bright, high-spirited boy, had him educated at his own residence, gave him several prebends, ordained him priest in 1445, and made him canon at the cathedral. Out of conscientious respect for the laws of the Church, John resigned all and retained only the chaplaincy of St. Agatha, where he laboured zealously for the salvation of souls.
Finding that a more thorough knowledge of theology would be beneficial, he obtained permission to enter the University of Salamanca, made a four years' course, and merited his degree in divinity. During this time he exercised the sacred ministry at the chapel of the College of St. Bartholomew (parish of St. Sebastian), and held the position for nine years. He was then obliged to undergo an operation for stone, and during his illness vowed that if his life were spared, he would become a religious. On his recovery in 1463, he applied for admission to the Order of Hermits of St. Augustine, at the church of St. Peter, at Salamanca, and on 28 Aug., 1464, he made his profession.
He made such progress in religious perfection that he was soon appointed master of novices, and in 1471 prior of the community. Great was his devotion to the Blessed Sacrament, and at Mass he frequently saw the Sacred Host resplendent in glory. He was gifted with special power to penetrate the secrets of conscience, so that it was not easy to deceive him, and sinners were almost forced to make good confessions; he obtained wonderful results in doing away with enmities and feuds. In his sermons he, like another St. John the Baptist, fearlessly preached the word of God and scourged the crimes and vices of the day, though thereby the rich and noble were offended. He soon made many enemies, who even hired assassins, but these, awed by the serenity and angelic sweetness of his countenance, lost courage. Some women of Salamanca, embittered by the saint's strong sermon against extravagance in dress, openly insulted him in the streets and pelted him with stones until stopped by a patrol of guards. His scathing words on impurity produced salutary effects in a certain nobleman who had been living in open concubinage, but the woman swore vengeance, and it was popularly believed that she caused the saint's death by poison (this statement is found only in later biographies). Soon after death his veneration spread in Spain.
The process of beatification began in 1525, and in 1601 he was declared Blessed. New miracles were wrought at his intercession, and on 16 Oct., 1690, Alexander VIII entered his name in the list of canonized saints. Benedict XIII fixed his feast for 12 June. His relics are found in Spain, Belgium, and Peru. His life written by John of Seville towards the end of the fifteenth century with additions in 1605 and 1619, is used by the Bollandists in "Acta SS.", Jun., III, 112.
Source