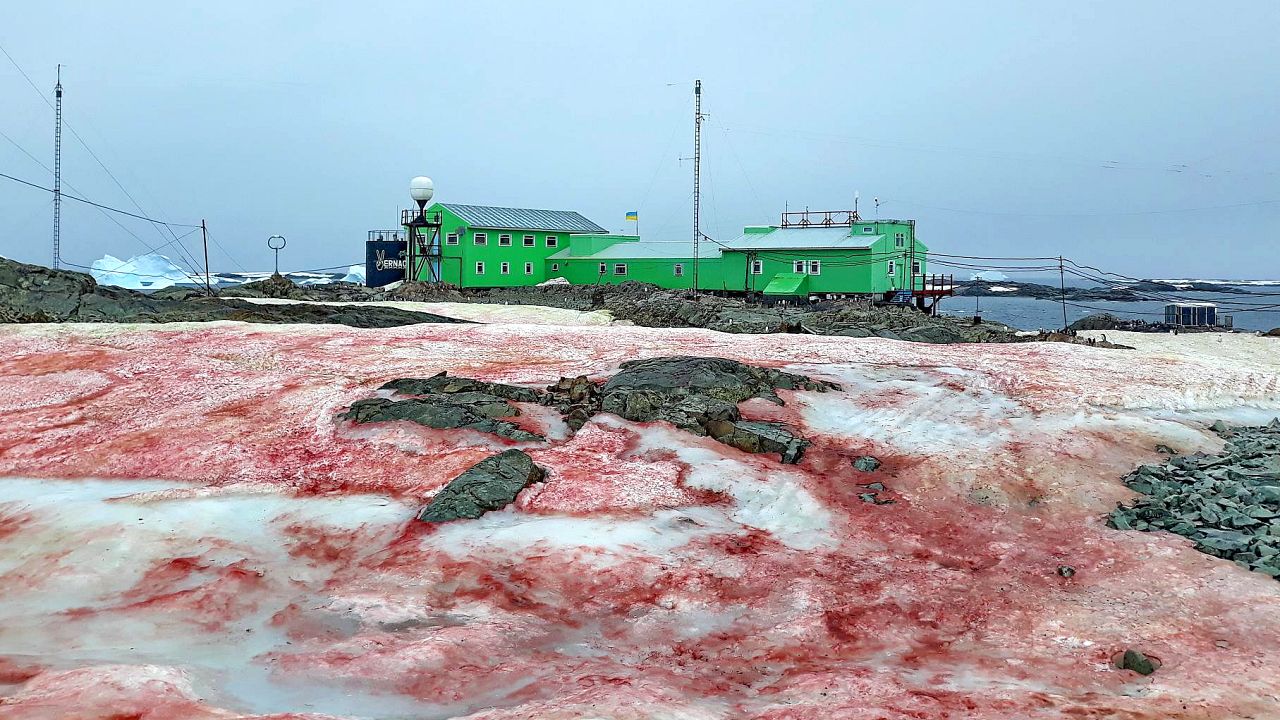 There will be bloody wars and famines, plagues and infectious diseases.
Our Lady of La Salette 19 Sept. 1846
(Published by Mélanie 1879)
"The earth will be struck by calamities of all kinds (in addition to plague and famine which will be wide-spread).
Our Lady of La Salette 19 Sept. 1846
(Published by Mélanie 1879)
God will abandon mankind to itself and will send punishments which will follow one after the other for more than thirty-five years.
Our Lady of La Salette 19 Sept. 1846
(Published by Mélanie 1879)
Spooky 'blood snow' invades Antarctic island
It's summer in Antarctica, which means record-high temperatures, jarring glacial melt and — in a very metal symbol of our changing climate — a bit of blood-red snow spattered across the Antarctic Peninsula. Over the past several weeks, the ice around Ukraine's Vernadsky Research Base (located on Galindez Island, off the coast of Antarctica's northernmost peninsula) has been coated in what researchers are calling "raspberry snow." A Facebook post by the Ministry of Education and Science of Ukraine shows the scene in full detail: streaks of red and pink slashing across the edges of glaciers and puddling on the frosty plains. That blood (or "jam" as the researchers whimsically call it) is actually a type of red-pigmented alga called Chlamydomonas Chlamydomonas nivalis, which hides in snowfields and mountains worldwide. The algae thrive in freezing water and spend winters lying dormant in snow and ice; when summer comes and the snow melts, the algae bloom, spreading red, flower-like spores. This phenomenon, which Aristotle noticed way back in the third century B.C., is known as "watermelon snow," "blood snow" and a host of other less poetic names.
Source
Coughing pope cancels participating in Lenten retreat
VATICAN CITY (AP) — A coughing Pope Francis told pilgrims gathered for the traditional Sunday blessing that he is canceling his participation at a week-long spiritual retreat in the Roman countryside because of a cold. It is the first time in his seven-year papacy that he has missed the spiritual exercises that he initiated early in his pontificate to mark the start of each Lenten season. Such retreats are typical Jesuits, an order to which he belongs. The 83-year-old pontiff, who lost part of a lung to a respiratory illness as a young man, has canceled several official engagements this week as he battled an apparent cold. His weekly appearance Sunday to pilgrims from a window high above St. Peter's Square was the first time he has been seen publicly since Ash Wednesday, when he was seen coughing and blowing his nose during Mass.
Source
PROPHECY OF MELANIE ON TWO POPES:
REMEMBER - THE 35+ YEARS WORTH OF CHASTISEMENTS DO NOT START UNTIL THE TWO POPES ARE DEAD......
"The great chastisement will come, because men will not be converted; yet it is only their conversion that can hinder these scourges. God will begin to strike men by inflicting lighter punishments in order to open their eyes; then He will stop, or may repeat His former warnings to give place for repentance. But sinners will not avail themselves of these opportunities; He will, in consequence, send more severe castigations, anxious to move sinners to repentance, but all in vain. Finally, the obduracy of sinners shall draw upon their heads the greatest and most terrible calamities. Mélanie
"We are all guilty! Penance is not done, and sin increases daily. Those who should come forward to do good are retained by fear. Evil is great. A moderate punishment serves only to irritate the spirits, because they view all things with human eyes. God could work a miracle to convert and change the aspect of the earth without chastisement. God will work a miracle; it will be a stroke of His mercy; but after the wicked shall have inebriated themselves with blood, the scourge shall arrive Mélanie
"What countries shall be preserved from such calamities? Where shall we go for refuge? I, in my turn, shall ask, What is the country that observes the commandments of God? What country is not influenced by human fear where the interest of the Church and the glory of God are at stake? (Ah, indeed! What country, what nation upon earth?) In behalf of my Superior and myself, I have often asked myself where we could go for refuge, had we the means for the journey and for our subsistence, on condition that no person were to know it? But I renounce these useless thoughts. We are very guilty! In consequence of this, it is necessary that a very great and terrible scourge should come to revive our faith, and to restore to us our very reason, which we have almost entirely lost. Mélanie
MARIA OF THE CROSS,
Victim of Jesus nee MELANIE CALVAT,
Shepherdess of La Salette
"I protest highly against a different text, which people may dare publish after my death. I protest once more against the very false statements of all those who dare say and write First that I embroidered the Secret; second, against those who state that the Queen Mother did not say to transmit the Secret to all her people."
Mélanie