Daniel's Second Beast BEAR = SOCIAL MEDIA: Working As Facebook Moderator Places One In The State Of Mortal Sin
And behold another beast like a bear stood up on one side: and there were three rows in the mouth thereof, and in the teeth thereof, and thus they said to it: Arise, devour much flesh. Dan.7.4
The second Beast is Bear. BEAR = SOCIAL MEDIA (Microsoft + Facebook + Apple + Youtube + Twitter + Instagram Wikileaks + Google + Amazon's Alexa + Snapchat + WhatsApp + 8Chan etc...)
Arise, devour much flesh...
Revealed: catastrophic effects of working as a Facebook moderator
The task of moderating Facebook continues to leave psychological scars on the company's employees, months after efforts to improve conditions for the company's thousands of contractors, the Guardian has learned. A group of current and former contractors who worked for years at the social network's Berlin-based moderation centres has reported witnessing colleagues become "addicted" to graphic content and hoarding ever more extreme examples for a personal collection. They also said others were pushed towards the far right by the amount of hate speech and fake news they read every day. They describe being ground down by the volume of the work, numbed by the graphic violence, nudity and bullying they have to view for eight hours a day, working nights and weekends, for "practically minimum pay". A little-discussed aspect of Facebook's moderation was particularly distressing to the contractors: vetting private conversations between adults and minors that have been flagged by algorithms as likely sexual exploitation. Such private chats, of which "90% are sexual", were "violating and creepy", one moderator said. "You understand something more about this sort of dystopic society we are building every day," he added. "We have rich white men from Europe, from the US, writing to children from the Philippines … they try to get sexual photos in exchange for $10 or $20." Gina, a contractor, said: "I think it's a breach of human rights. You cannot ask someone to work fast, to work well and to see graphic content. The things that we saw are just not right."
Source
Arise, devour m
uch flesh......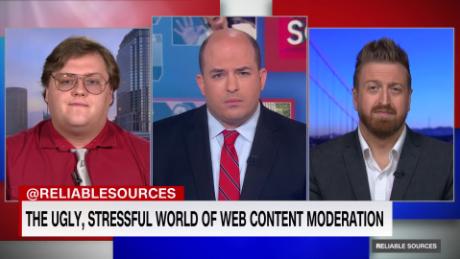 Here is my take on the Four Beasts:
The Four beasts of Daniel are:
FIRST BEAST LIONESS WITH WINGS OF AN EAGLE = THE AIRLINE AND SPACE INDUSTRIES
1. The first was like a lioness, and had the wings of an eagle: I beheld till her wings were plucked off, and she was lifted up from the earth, and stood upon her feet as a man, and the heart of a man was given to her
SECOND BEAST BEAR = SOCIAL MEDIA (facebook twitter etc...)
2. And behold another beast like a bear stood up on one side: and there were three rows in the mouth thereof, and in the teeth thereof, and thus they said to it: Arise, devour much flesh.
THIRD BEAST LEOPARD = NATIONALISM OF THE FORERUNNER TO THE ANTICHRIST (HE WHO MURDERS THE FATIMA POPE WITH AN ARMY MADE UP OF MANY NATIONS)
3. After this I beheld, and lo, another like a leopard, and it had upon it four wings as of a fowl, and the beast had four heads, and power was given to it.
FOURTH BEAST = THE ANTICHRIST (THIS IS CHURCH DOCTRINE AS ALL FATHERS TESTIFY)
4. After this I beheld in the vision of the night, and lo, a fourth beast, terrible and wonderful, and exceeding strong, it had great iron teeth, eating and breaking in pieces, and treading down the rest with its feet: and it was unlike to the other beasts which I had seen before it, and had ten horns.
All four beast are different from one another - the third and fourth beasts are political in nature but different - the third being man-made nationalistic political authority and the fourth being man-made universal political authority.
I think this is in line with what the Church Fathers would say.
If you find fault in this let me know.
Arise, devour much flesh......