Daniel's Second Beast BEAR = SOCIAL MEDIA: Pope Lashes Out At Blogging Ambassadors, Demands Obedience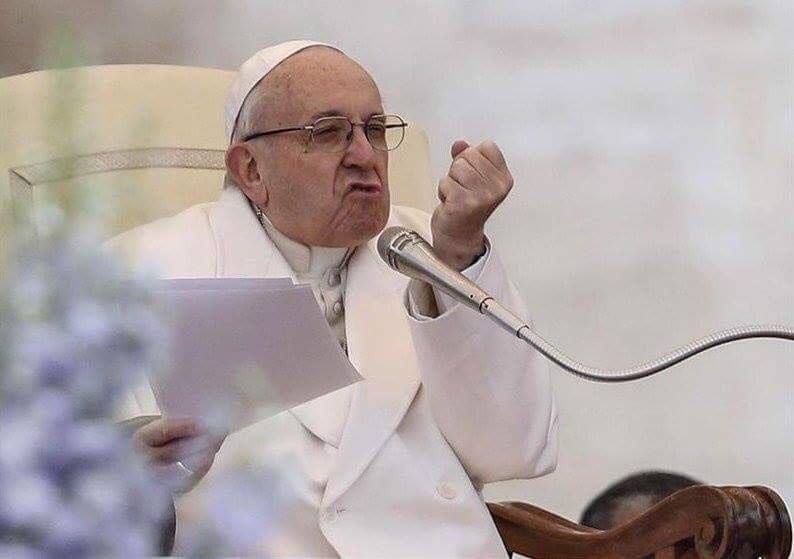 And behold another beast like a bear stood up on one side: and there were three rows in the mouth thereof, and in the teeth thereof, and thus they said to it: Arise, devour much flesh. Dan.7.4
The second Beast is Bear.
BEAR = SOCIAL MEDIA (Microsoft + Facebook + Apple + Youtube + Twitter + Instagram Wikileaks + Google + Amazon's Alexa + Snapchat + WhatsApp etc...)

Maybe Fr. Cusick would agree that the Bear spoken of by the prophet Daniel is SOCIAL MEDIA.....

Arise, devour much flesh......

Pope lashes out at blogging ambassadors, demands obedience
VATICAN CITY (AP) — Pope Francis has demanded obedience from Vatican ambassadors and reminded them of their duties before him, God and the faithful after years of scandal have tarnished the reputation of the Holy See's diplomatic corps. Francis told envoys they may have reservations about papal policy but they don't represent themselves and can't "criticize the pope behind his back, have blogs or join groups hostile to him." The unusual dressing down came in a speech that was handed out but not spoken on Thursday. It followed several sex scandals among Vatican envoys and explosive claims by the former Vatican ambassador to the U.S. that Francis ignored his 2013 warnings about a cardinal's sexual encounters with seminarians. Francis defrocked ex-Cardinal Theodore McCarrick in February and has said he doesn't remember receiving a warning.
Source
Arise, devour much flesh......

Here is my take on the Four Beasts:
The Four beasts of Daniel are:
FIRST BEAST LIONESS WITH WINGS OF AN EAGLE = THE AIRLINE AND SPACE INDUSTRIES
1. The first was like a lioness, and had the wings of an eagle: I beheld till her wings were plucked off, and she was lifted up from the earth, and stood upon her feet as a man, and the heart of a man was given to her
SECOND BEAST BEAR = SOCIAL MEDIA (facebook twitter etc...)
2. And behold another beast like a bear stood up on one side: and there were three rows in the mouth thereof, and in the teeth thereof, and thus they said to it: Arise, devour much flesh.
THIRD BEAST LEOPARD = NATIONALISM OF THE FORERUNNER TO THE ANTICHRIST (HE WHO MURDERS THE FATIMA POPE WITH AN ARMY MADE UP OF MANY NATIONS)
3. After this I beheld, and lo, another like a leopard, and it had upon it four wings as of a fowl, and the beast had four heads, and power was given to it.
FOURTH BEAST = THE ANTICHRIST (THIS IS CHURCH DOCTRINE AS ALL FATHERS TESTIFY)
4. After this I beheld in the vision of the night, and lo, a fourth beast, terrible and wonderful, and exceeding strong, it had great iron teeth, eating and breaking in pieces, and treading down the rest with its feet: and it was unlike to the other beasts which I had seen before it, and had ten horns.
All four beast are different from one another - the third and fourth beasts are political in nature but different - the third being man-made nationalistic political authority and the fourth being man-made universal political authority.
I think this is in line with what the Church Fathers would say.
If you find fault in this let me know.
Arise, devour much flesh......