Hajj 2017 will begin in the evening of Wednesday, August 30
DOOM updates:
16 JULY 2017 MERS Warning Issued For Hajj Pilgrims
15 JULY 2017 Rex Tillerson Can't Work Things Out
15 JULY CHOLERA EPIDEMIC
15 JULY 2017 SAUDIS Kick Out First Wave Of OFWs (Overseas Filipino Workers) In Preparation Of HAJJ SLAUGHTER!
14 JULY 2017 SHIA MUSLIMS Murder Saudi Soldier in Qatif
9 JULY 2017 Hyundai Engulfed By Flames At Saudi Arabia Gas Station!
8 JULY 2017 Saudi Arabia imposes Dh389 fee on domestic pilgrims
8 JULY 2017 Iranian security forces confiscated a large cache of weapons to be used In HAJJ attack by Jaish ul-Adl terrorist group in the country's southeastern province of Sistan and Baluchestan.
7 JULY 2017 World's Largest Bookstore, Tehran's Book Garden Opens
6 JULY 2017 Iran, Saudi Arabia agree to terms for Hajj 2017
6 JULY 2017 Saudi Policeman Killed, 6 Wounded In Qatif Bomb Attack....
MERS Warning issued for Hajj pilgrims
ISLAMABAD: The National Institute of Health (NIH) on Friday issued an advisory regarding prevention and control of the Middle East Respiratory Syndrome Corona Virus (MERS-CoV) during the upcoming Hajj season. The Field Epidemiology and Disease Surveillance Division (FEDSD) of NIH have directed all concerned authorities, including federal and provincial ministries of religious affairs to take appropriate measures during the pilgrimage season to prevent the spread of diseases. According to the advisory, MERS is a viral respiratory disease caused by a novel coronavirus (MERS coronavirus, or MERS-CoV) was first identified in Saudi Arabia in 2012.
Source
Who Are the Muslim Brotherhood, and What Does It Have to Do With the Qatar-Saudi Split?
LONDON — U.S. Secretary of State Rex Tillerson has been working his diplomatic muscles this week shuttling between Qatar and Saudi Arabia trying to end a month-long rift among some of America's most important Mideast allies. Saudi Arabia, the United Arab Emirates, Egypt and Bahrain severed relations with Qatar and cut air, sea and land routes with it more than a month ago, accusing Doha of supporting extremist groups. The four anti-Qatar countries issued a 13-point list of tough demands, primary among them that Doha cut ties with Islamist groups — particularly the Muslim Brotherhood.
Source
Statement from UNICEF Executive Director Anthony Lake and WHO Director-General Margaret Chan on the cholera outbreak in Yemen as suspected cases exceed 200 000
NEW YORK/GENEVA, 24 June 2017 – The rapidly spreading cholera outbreak in Yemen has exceeded 200 000 suspected cases, increasing at an average of 5000 a day. We are now facing the worst cholera outbreak in the world.
In just two months, cholera has spread to almost every governorate of this war-torn country. Already more than 1300 people have died – one quarter of them children – and the death toll is expected to rise.
UNICEF, WHO and our partners are racing to stop the acceleration of this deadly outbreak. We are working around the clock to detect and track the spread of disease and to reach people with clean water, adequate sanitation and medical treatment. Rapid response teams are going house-to-house to reach families with information about how to protect themselves by cleaning and storing drinking water.
UNICEF and WHO are taking all measures to scale up prevention and treatment interventions. We call on authorities in Yemen to strengthen their internal efforts to stop the outbreak from spreading further.
This deadly cholera outbreak is the direct consequence of two years of heavy conflict. Collapsing health, water and sanitation systems have cut off 14.5 million people from regular access to clean water and sanitation, increasing the ability of the disease to spread. Rising rates of malnutrition have weakened children's health and made them more vulnerable to disease. An estimated 30 000 dedicated local health workers who play the largest role in ending this outbreak have not been paid their salaries for nearly 10 months.
We urge all authorities inside the country to pay these salaries and, above all, we call on all parties to end this devastating conflict.
Anthony Lake
Executive Director
UNICEF
Dr Margaret Chan
Director-General
World Health Organization
225 distressed OFWs arriving from Saudi Arabia Saturday evening
Over 200 OFWs from the Middle East are expected to arrive at the Ninoy Aquino International Airport on Saturday evening and will be welcomed by some government officials. In in tweet on Saturday morning, Overseas Workers Welfare Administration chief Hans Leo Cacdac said that a total of 225 OFWs, including their children, are coming home from Jeddah, Kingdom of Saudi Arabia.
Source
Attackers kill Saudi soldier in Qatif
A Saudi soldier has been killed and another injured in a shooting attack on their patrol vehicle in the kingdom's eastern province of Qatif. Saudi Arabia's official news agency on Friday quoted the Saudi interior ministry as saying that the attack took place late on Thursday. It gave no further details, but said that authorities were investigating. In recent months, Qatif, a Shia-majority province, has seen a series of attacks targeting security forces. Last week, two security personnel were injured when a roadside bomb hit their car in Qatif. Thursday's attack came days after Saudi Arabia executed four Shias convicted on "terrorism" charges for attacks on the police and their role in violent protests. The interior ministry said the four were executed for incidents that took place in Qatif.
Source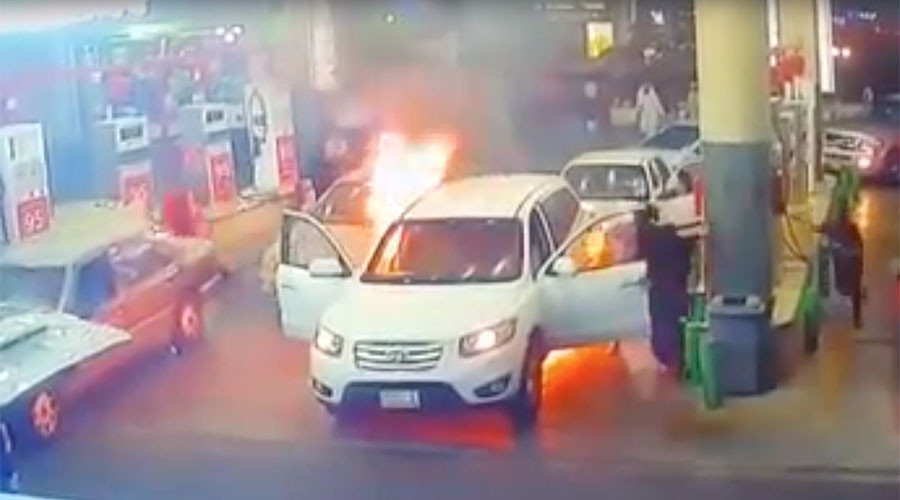 2015 All over again......
Car engulfed by flames in alarming gas station footage (VIDEO)
CCTV footage has captured the remarkably alert reactions of Saudi gas station attendants after a customer's car suddenly burst in flames. What began as a relatively mundane Saturday rush hour quickly turned chaotic when one of the attendants at a gas station in Medina, Saudi Arabia noticed a spark beneath a refueling Hyundai.
RT>>>>>>
Saudi Arabia imposes Dh389 fee on domestic pilgrims
The fee will be in the form of a bank guarantee of 30 per cent of the value of services provided by the ministry. The Saudi Haj Ministry has imposed a $106 fee on each domestic pilgrim to be paid by organisations and companies offering services for them, the media reported on Saturday. The fee will be in the form of a bank guarantee of 30 per cent of the value of services provided by the ministry. The fees should be paid before registering domestic pilgrims through the online portal for the upcoming pilgrimage season. The fees should be transferred to the ministry's account through local banks that are registered with the Saudi Monetary Agency, Xinhua news agency reported. The ministry warned the organisations against hiking their prices in order to make the pilgrims to pay for the new fee, while ordering them to allocate all administration, reception and data processing jobs to Saudis
Source
Arms cache of Jaish ul-Adl terror group seized in SE Iran
Iranian security forces have confiscated a large cache of weapons and an anti-aircraft cannon belonging to the so-called Jaish ul-Adl terrorist group in the country's southeastern province of Sistan and Baluchestan. The terrorists' arms depot included 35 Kalashnikov rifles, a 14.5-mm anti-aircraft cannon, nine SPG-9 guns as well as a large amount of ammunition, the police commander of Sistan and Baluchestan, Hossein Rahimi, told reporters on Saturday, IRNA reported
Source
WORLD'S LARGEST BOOKSTORE, TEHRAN'S BOOK GARDEN, OPENS IN IRAN DESPITE GOVERNMENT CENSORSHIP
Bibliophiles in Iran, clear your weekend: The huge Book Garden center just opened in Tehran. Officials unveiled the Book Garden, a giant academic complex being called "the world's largest bookstore," on Wednesday. At roughly 65,000 square meters (about 700,000 square feet), the center has several movie theaters, science halls, classrooms, a restaurant, a prayer room and whole a lot of literature. On its roof is a green park area for reading.
Newsweek>>>>>>>>
Iran, Saudi Arabia agree to terms for Hajj 2017
(IRNA) The Iranian Minister of Culture and Islamic Guidance Reza Salehi-Amiri said on Wednesday that all the conditions of Iran in order to provide security for Iranian Hajj pilgrims and safeguarding their honor were accepted and inked by the Saudi officials. Salehi-Amiri added that safeguarding the Iranian pilgrims' honor and respect is a top priority for Iranian officials. He added that the first group of the pilgrims will leave for Saudi Arabia on July 31
Source
Saudi Policeman Killed, 6 Wounded In Qatif Bomb Attack
JEDDAH: A policeman was killed in a bomb attack in Saudi Arabia's Eastern Province on Thursday, authorities said. A police patrol was targeted while in the Al-Musawara neighborhood of Qatif Municipality resulting in the death of Cpl. Abdullah Treiki Al-Turki and wounding six others, the Interior Ministry said, cited by the official SPA news agency. The attack, carried out by terrorists, was the second this week in the same area. On Tuesday morning Vice Sgt. Adel Faleh Al-Otaibi was killed and 3 others were wounded after a explosive projectile hit their vehicle. Earlier Thursday, Sgt. Abdul Aziz Al-Turki, who was injured by an improvised explosive device in the town of Awamiyah in Qatif on Tuesday, died at the Central Hospital of Qatif. Al-Turki was on duty patrolling the area in an armored vehicle when an explosive was thrown at him. He was taken to hospital for emergency surgery on his head, but his health deteriorated.
Source
Stay tuned here for further HAJJ DOOM updates!