Duterte Orders The Withdrawal Of US Special Forces From Mindanao To Give Muslim Abu Sayyaf Free Reign In Attacking Catholics Of The Archdiocese of Zamboanga
Modern Metropolitan Cathedral of the Immaculate Conception
Zamboanga City
Duterte is keeping his promise to destroy the Church:
I will destroy the Church and the present status of so many priests and what they are doing. You priests, bishops, you condemn me and suggest I withdraw, but then I will start to open my mouth. There are so many secrets that we kept as children. Do not force (me to speak) because this religion is not so sacred. Duterte
Of course Duterte has to destroy the Church at home first. So he will start will the Church in the Philippines.
Duterte needs help in destroying the Church in the Philippines and what better collaborator than the Muslims.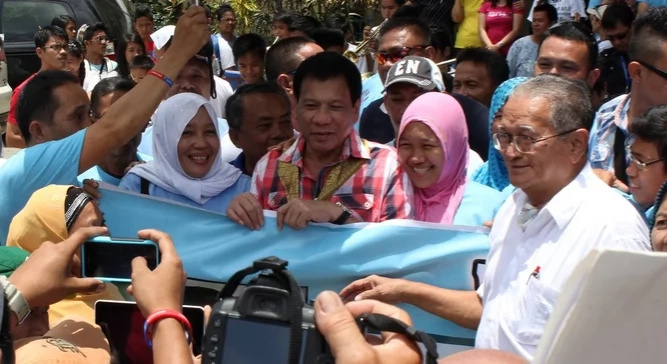 Who are these Muslims?
Abu Sayyaf
Where to find Abu Sayyaf?
On the island of Mindanao
Duterte just sent a Eid'l Adha message to his Muslim collaborators in the Abu Sayyaf
"This occasion reminds us of the virtues that strengthen the very foundation of Islam. I join you in commemorating the ultimate obedience and trust of Ibrahim when he submits to sacrifice his son, Ishmael, according to the will of Allah. This occasion truly invigorates our common aspirations and rekindles the true significance of our faith," Duterte
What are the obstacles in having Abu Sayyaf carry out the attacks on the Catholic Church in Mindanao?
US Special Forces.
How to get rid of the US Special Forces on Mindanao?
Duterte can claim that US Special Forces are in great danger by staying on Mindanao:
Duterte says he wants U.S. special forces out of southern Philippines
MANILA (Reuters) - Philippine President Rodrigo Duterte on Monday called for the withdrawal of U.S. military from a restive southern island, fearing an American troop presence could complicate offensives against Islamist militants notorious for beheading Westerners. Duterte, who was in the spotlight last week over his televised tirade against the United States and President Barack Obama, said special forces now training Filipino troops were high-value targets for the Islamic State-linked Abu Sayyaf as counter-insurgency operations intensify. "These special forces, they have to go," source
The solution in keeping all American safe of course is to remove all US Military from Mindanao.
Once all US Military and personnel is removed from the island of Mindanao, then the Muslims can take over.
What has to happen?
Murder all Catholics who stay in Zamboanga City
Bomb all Catholic Churches on the island.
Duterte can claim that the Muslims did this crime.
Duterte then sends limited and unprepared Troops to Mindanao to fight against Abu Sayyaf, making for a several year conflict with no end in sight.
And once a cease fire is drawn up, part of the agreement is to make all of Mindanao 100% Muslim.
Yea...that's the game plan.....