CARDINAL RAYMOND BURKE + ROSARY NOVENA FOR OUR NATION + MONKS OF NORCIA + 6.1 Earthquake + 250 Dead = DOOM FULFILLED?
Several cities will be shaken down and swallowed up by earthquakes. People will believe that all is lost. Nothing will be seen but murder, nothing will be heard but the clash of arms and blasphemy. Our Lady of La Salette 19 Sept. 1846 (Published by Mélanie 1879)
Water and fire will give the earth's globe convulsions and terrible earthquakes which will swallow up mountains, cities, etc.. Our Lady of La Salette 19 Sept. 1846 (Published by Mélanie 1879)
There will be thunderstorms which will shake cities, earthquakes which will swallow up countries. Our Lady of La Salette 19 Sept. 1846

(Published by Mélanie 1879)
Just a few days ago Hillary White
see here
called down the wrath of God upon Norcia Italy and the surrounding area by mocking the Divinely Ordained Authority of the Holy Roman Emperor by suggesting that any man who desires the restoration of the Divinely Ordained Authority of the Holy Roman Emperor should lock himself away in the Norcia Monastery to work on his piety, only to released by the whim of his democracy loving Superior. Mind you all this is done in imitation of St. Henry. Why does Hillary suggest this? Because according to her friend Ann Barnhardt only a psycho would desire political office:
your desire for political office is ipso facto proof that you are not qualified to hold any political office.
Does that go for those who desire the restoration of the Divinely Ordained Authority of the Holy Roman Emperor? White doesn't say - but she hints at it.
A few days later a Earthquake hit Norcia.
This should give warning to Hillary and other pro-democracy lovin' traditionalists not to hinder the restoration of the Divinely Ordained Authority of the Holy Roman Emperor by wishing those who desire this restoration to go away and hide themselves in the Norcia Monastery.
Timing is everything and Hillary's timing says alot. Will White pay attention? Probably not.
Her boss over at the Remnant Mr. Michael Matt never pays attention and never takes a hint. Matt is in love with the ballot box. Matt admits he's clueless on a answer to restore all things in Christ:
As I said here the other day, we don't claim to have all the answers but we are interested in this debate, especially if it can be conducted by those willing to think outside the box, set aside outdated Cold War polemics and look at what's happening in the here and now. Source
Matt claims he thinks outside the box! This is a laugh. Matt NEVER thinks outside the BALLOT BOX. Matt's ideas all revolve around the ballot box. If the restoration of all things in Christ doesn't come about by the ballot box, then its not a true restoration!
Matt's solution? PUTIN! Yes that's right Matt is going back to his very own vomit that he puked up on the Internet awhile back just before PUTIN shot down Malaysia Airlines Flight 17 (MH17/MAS17) over the Ukraine killing 298 souls!
Matt backed off his love affair with PUTIN after the downing of the flight.
But that was 17 July 2014! Two years ago! So Matt thinks you all forgot what Matt's political savior did two years ago.
At least Matt doesn't claim to have all the answers. Matt doesn't have any. NONE
So what we have is two shills for Modern Democracy trying to hinder the
the restoration of the Divinely Ordained Authority of the Holy Roman Emperor - the one wishing some would hide themselves away forever & the other offering PUTIN to rule over us!
LOL!
What's the response from the Blessed Trinity & the Mother of God?
An earthquake that shook the bed of Hillary White, waking her up from her deep slumber.
Will Hillary get the message?
I bet not!
Don't believe me?
Enter Cardinal Burke for proof:
Did you know the connection between Cardinal Raymond Burke & the Monks of Norcia?
Well, seems something a little strange is going on. Is it the devil or wrath of God? Or both?
I was tipped off by Ann Barnhardt of the connection of Cardinal Burke and the Monastery in Norcia:
85% of the Norcia monks are American boys, almost all under the age of 40)
I have been posting daily doom (or at least trying to) showing the fruit of Cardinal Burke's 54 day Novena:
DOOM For America Starts Today! Cardinal Burke's Novena For Our Nation 15 August To 7 October......
As was said in the above post on August 15th:
Will keep track of the Doom that follows in the wake of this 54 day Novena (its kind of like the Pope Francis Doom Novena.) The problem with this Novena for the Nation, is that men like Cardinal Burke believe that Modern Democracy is Divine and is directly from God. Cardinal Burke lies about Democracy. America and all modern democracies have revolted against the Divinely Ordained Authority of the Holy Roman Emperor and will be punished for it. These men are even using the Battle of Lepanto as an example to imitate and justify their democratic cause! I bet Pope St. Pius V & Don John of Austria never cast a ballot for a protestant politician! But you & Burke will! LOL! Praying a Novena isn't going to stop what's to come. Sword Famine Pestilence... ....and everything in between.
Well DOOM did hit Norcia. Doom hit the center of all these traditionalists who would rather be ruled by protestant heretics then to be ruled under a Roman Catholic Emperor.
Here's Cardinal Burke's history with the monks of Norcia
2013 FEBRUARY 11
First, Cardinal Burke meets with the Monks of Norcia back in 2013 and the very next day lightning strikes in Rome!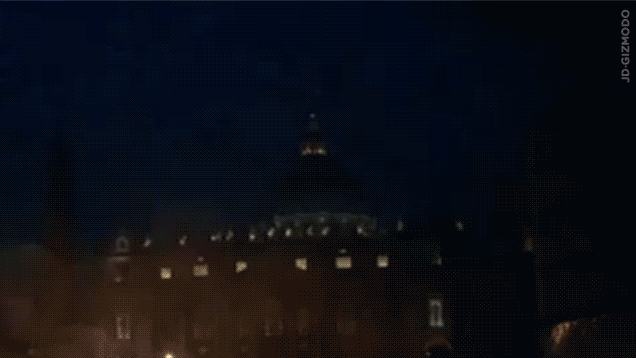 On Sunday, February 10th, we welcomed His Eminence, Raymond Cardinal Burke to the monastery for the Feast of St. Scholastica; it was an honor to host him. The very next day, Pope Emeritus Benedict announced his resignation from the papacy. Source
This one event alone in and of itself is a little strange as most trads do agree. But to have this event tied in with Burke's visit to Norcia the day before is even stranger still!


2014 MAY 9
Each Spring, Fr. Cassian and Fr. Benedict spend a lovely evening with many friends and benefactors at a fine dining experience sponsored by the generous Marchetti family. On Friday, May 9, 2014, we're pleased to announce that His Eminence, Raymond Cardinal Burke will be the keynote speaker at this annual fundraising dinner, which will take place this year at Waveny House in New Canaan, Connecticut. Source
Fr. Z praises the monks as well:
Tonight I am at a gala and fundraiser for the wonderful community of Benedictine monks at Norcia in Italy. They are in Italy. We are in Connecticut. Look them up! Card. Burke is here. I had a chat with him earlier. I can't speak highly enough of these good people. Source
All the usual pro-democracy suspects in trad land climb on board the Norcia DOOM train:
2015 OCTOBER 30
Registration is now open for the Colloquium on Dignitatis Humanæ to be held in Norcia, October 30th—November 1st. As we reported in March, Cardinal Burke will be in attendance. The Colloquium is being organized by the newly formed Dialogos Institute, for the study of the patristic heritage in the spirit of Latin and Byzantine Thomism. The Institute describes the purpose of the Colloquium as follows:
December 2015 marks the 50th anniversary of the most controversial document of the Second Vatican Council, the 'Declaration on Religious Freedom', Dignitatis Humanae. Ever since its promulgation, it has been the subject of prolonged and often impassioned debate. What precisely does it teach? What is its authority? How can it be reconciled with the Church's teaching about the kingship of Christ and the duties of Catholic statesmen? Scholars from all over the world will be meeting in Norcia this autumn, in the presence of Cardinal Raymond Burke, to discuss these vital questions.

Source

None of these men desire the restoration of the Divinely Ordained Authority of the Holy Roman Emperor. It's pathetic.


2016 SUMMER
More praise from Fr. John Zuhlsdorf on the monks and their beer and Summer studies that pro-democracy lovin' trads attended:
Each summer for the past five years, the town of Norcia [where the great monastery of Benedictines is] has been home to the Summer Program of the Albertus Magnus Center for Scholastic Studies. This two-week program focuses on a combination of Scripture, Church Fathers, and St. Thomas, with lectures, discussions, and disputations held in the beautiful and leisurely setting of this lovely medieval town, and with the monastic rhythm of prayer as the very heart and center of the whole enterprise. And there is always the great monk-brewed beer to sip at the end of a long day of study and conversation. [I'd like to go myself!]
This year, participants will study the Epistle to the Hebrews, its rich teaching on Christology, priesthood, sacrifice, sacraments, and worship. Faculty will include Dr. Peter Kwasniewski, [Of Wyoming Catholic College] Fr. Thomas Crean, O.P., Br. Evagrius Hayden, O.S.B., John Joy, Christopher Owens, and Daniel Lendman. Guest lectures will be delivered by monks from the monastery, including its prior, Fr. Cassian Folsom, O.S.B. Source

And just think, a month later, disaster hit.
2016 AUGUST 22


Cardinal Burke insists he's not an 'enemy' of Pope Francis
"I know about all these depictions. People call me 'the enemy of the pope' and so forth. I have never been, and I am not presently the enemy of the pope," Source
Then this two days later:
2016 AUGUST 24 LAUDS:
THE EARTHQUAKE AND THE MONKS Many of you have by now heard of the earthquake that struck us during the night. The quake was a powerful one with a magnitude of 6.2. We've taken the past few hours to assess the situation. Source
So what do we have?
Two shills for modern democracy writing for the Remnant connected to Norcia.
A bunch of traditional eggheads & shills for modern democracy connected to Norcia
A Cardinal promoting 54 day Novena for modern democracy very much connect to Norcia.
A 6.1 Earthquake swallowing up the cities surrounding the Norcia Monastery killing over 250 souls making the monks to leave for Rome.
See here.
Is this not a sign to these men?
STOP HINDERING THE RESTORATION OF THE DIVINELY ORDAINED AUTHORITY OF THE HOLY ROMAN EMPEROR.
Is Doom over for these men?
Is their foolish obstinacy? Therein will you find your answer.
I do have to ask: WILL DESTRUCTION FOLLOW THE MONKS TO ROME?
Monks will be staying on the Aventine Hill, Sant'Anselmo, in Rome.
Here's a typical reaction from traditionalists thinking that the Monks of Norcia are some how protected by God because the property damage was not as severe as the surrounding areas, and the death count was next to nothing at the Monastery.
Can't help feeling that the fact that Norcia has minimal casualties compared to the rest of the area, where whole towns are destroyed, might just mean the monks are in good standing with God! If that's the case, who cares what anybody else thinks?

Source
I say the contrary.
What good is a Monastery in your area that doesn't help in appeasing the Vengeance of God.
No, something sinister about that lot.
To end, here are videos of the destruction:
MARIA OF THE CROSS,
Victim of Jesus nee MELANIE CALVAT,
Shepherdess of La Salette
"I protest highly against a different text, which people may dare publish after my death. I protest once more against the very false statements of all those who dare say and write First that I embroidered the Secret; second, against those who state that the Queen Mother did not say to transmit the Secret to all her people." Melanie