Pope Francis DOOM NOVENA! Prays For 62 Portugal Fire Victims And Six Days Later 200 Die In China Landslide!
18 JUNE POPE FRANCIS PRAYS FOR PORTUGAL FIRE VICTIMS
(Vatican Radio) After the recitation of the Marian prayer on Sunday in St Peter's Square, Pope Francis expressed his closeness to the people of Portugal following devastating forest fires in the Pedrógão Grande area, south-east of Coimbra, which have killed and injured numerous people.
Source
24 JUNE 200 DIE IN CHINA LANDSLIDE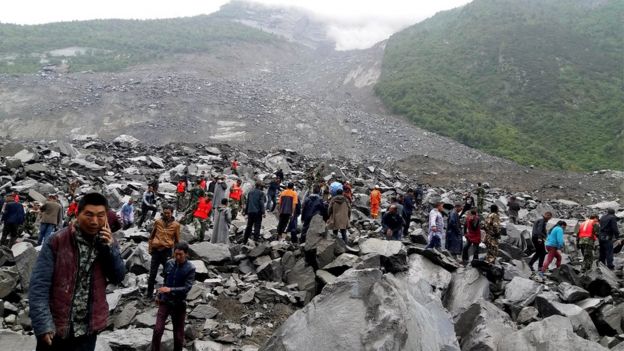 At the first blow of His thundering sword, the mountains and all Nature will tremble in terror, for the disorders and crimes of men have pierced the vault of the heavens.
Our Lady of La Salette 19 Sept. 1846
(Published by Mélanie 1879)
BEIJING (AP) — More than 120 people were buried by a landslide that caused huge rocks and a mass of earth to come crashing into their homes in a mountain village in southwestern China early Saturday, officials said. The landslide, which came from a mountain, engulfed a cluster of 62 homes and a hotel in the village of Xinmo in Mao County at about 6 a.m., the Sichuan provincial government said. Officials said 1.6 kilometers (1 mile) of road were buried in the disaster. "It's the biggest landslide to hit this area since the Wenchuan earthquake," Wang Yongbo, an official leading one of the rescue efforts, told state broadcaster China Central Television. Wang was referring to China's deadliest earthquake this century, a magnitude 7.9 temblor that struck Sichuan province in May 2008, killing nearly 90,000 people. The provincial government said more than 120 people were buried by the landslide.
Source
Pay Attention!
Demon Pazuzu


"In the year 1864, Lucifer together with a large number of demons will be unloosed from hell; they will put an end to faith little by little, even in those dedicated to God. They will blind them in such a way, that, unless they are blessed with a special grace, these people will take on the spirit of these angels of hell; several religious institutions will lose all faith and will lose many souls.
Our Lady of La Salette 19 Sept. 1846
(Published by Mélanie 1879)
Several will abandon the faith, and a great number of priests and members of religious orders will break away from the true religion; among these people there will even be bishops.
Our Lady of La Salette 19 Sept. 1846

(Published by Mélanie 1879)
"Francis / Bishop of Rome."


Francis The Destroyer

For In Those Days Jesus Christ Will Send Them Not A True Pastor, But A Destroyer ~ St. Francis