Is DUTERTE Really Upset Over The Death Of 27 Catholics From The MUSLIM Terror Attack On The Cathedral of Our Lady of Mt Carmel in Jolo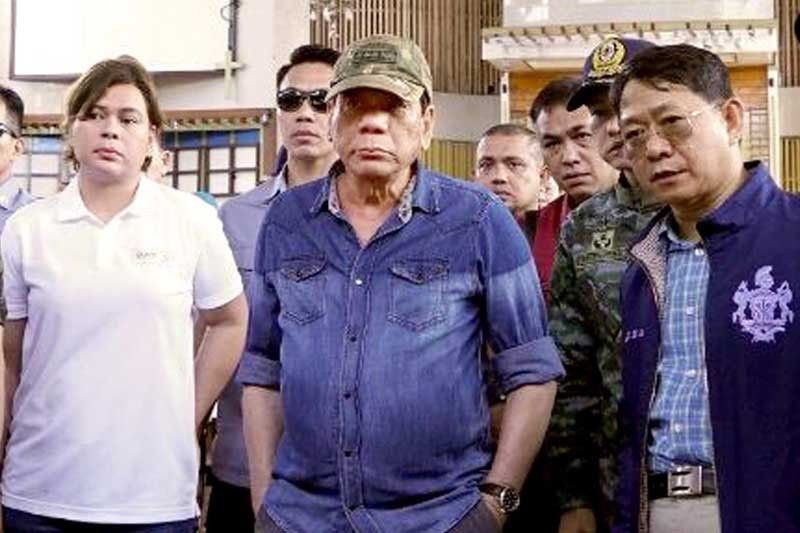 Duterte angry, disappointed over Jolo cathedral attack
DAVAO CITY – An enraged President Duterte spewed out expletives as he inspected the bombed out Jolo cathedral and condoled with the victims' relatives yesterday in Sulu.
"Anger was written all over the President's face. Talagang galit (Really angry). And he took a long time talking with the survivors as well as the families of those who died in the attacks," a source told The STAR.
The source said Duterte blamed the terrorist Islamic State and let out a hail of "p.....g ina" as he declared war on IS.
Duterte's spokesman in Manila talked of the Chief Executive's feeling "outraged" and "disappointed."
"Of course he was so angry, for one. For another, he is so disappointed that despite the movement to tread the path toward peace and development, there are still certain forces in that region who sowed terror and killed and murdered people," presidential spokesman Salvador Panelo said.
He said Duterte has instructed the military "to secure the safety of the citizenry" and "to attend to the injured and to provide succor to the families of the victims."
Panelo declined to comment on claims the bombings had something to do with the recent plebiscite on the Bangsamoro Organic Law, which was rejected by Sulu residents on Jan. 21.
"He will wait for the investigation. Of course, one Islamic State is claiming responsibility. I read it in one of the briefers, that one terrorist group is claiming responsibility for that. But we have to wait for the investigation," the spokesman said.
Panelo also said it would be unfair to accuse Moro National Liberation Front founder Nur Misuari of plotting the bombing.
"We cannot enter into the realm of speculation. It could be unfair and not good to be speculating. I know that Nur Misuari wants federalism better than BOL but he didn't oppose it actively. In fact, he was non-committal with respect to the plebiscite," he added.
Panelo claimed the bombings in Jolo are "isolated" incidents and maintained that the martial law being implemented in Mindanao had been effective in curbing threats.
"They (critics) are saying that despite martial law, there has been bombing and therefore martial law should be lifted. With more reason, martial law should be in place because if you can do that under a martial law regime, then the more reason you should maintain it and be more strict in the implementation of security measures," he said
"The fact alone that there is only one incident of bombing for the last... how many, one year plus? That means martial law is effective. Can you imagine how many bombings there would have been if there was no martial law there in operation?"
When reminded that an explosion rocked Cotabato City last Dec. 31, Panelo said the bombings were "little" compared to the "chaos" that would have ensued in Mindanao without military rule. At least two people died and 35 others were hurt in the Cotabato explosion.
"If there was no martial law there, then there would have been chaos and anarchy. You see how they were able to get Marawi? There was no martial law then," Panelo said, referring to the occupation of Marawi by local terrorists in 2017.
Source
I will destroy the Church and the present status of so many priests and what they are doing. You priests, bishops, you condemn me and suggest I withdraw, but then I will start to open my mouth. There are so many secrets that we kept as children. Do not force (me to speak) because this religion is not so sacred. Duterte