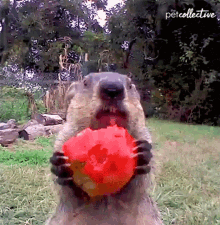 Eager Beaver Filling Up His Belly....
It's all about the money....if you have money then that means you are doing God's work...right? right?
This info is brought to you by the lay folk at complicitclergy.com
These are the same men mentioned by Our Lady Of La Salette who will one day hunt down and murder priests they don't like:
Priests and religious orders will be hunted down, and made to die a cruel death.
Our Lady of La Salette 19 Sept. 1846
(Published by Mélanie 1879)
How One 'Ineffective' Priest Raise Over $500,000 In Just 4 Days.
In his letter requesting the resignation of Fr. James Altman, Bishop William Callahan called Altman "divisive and ineffective." In the four days since Fr. Altman originally made Bishop Callahan letter public, this 'ineffective" priest has managed to raise over half a million dollars. As of this morning, the Give Send Go page for Fr. Altman had raised nearly $300,000 and the Life Fund page had raised over $217,000.
SOURCE
Eager Beaver