Pope Francis Opens Secret Vatican Archives To See If Pope Pius XII Gave Any Warnings About Fatima And The Suicide Of Altering The Faith In Its Liturgy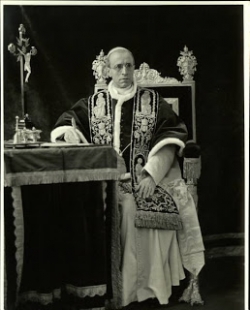 Is there any truth to Pope Pius XII warnings about Fatima and the Suicide of Altering the Faith in its Liturgy?
See Here
Pope Francis to open Vatican Secret Archives:
Pope opens up WWII, Pope Pius XII documents in Vatican Secret Archives
VATICAN – Declaring that the Catholic Church is unafraid of history, Pope Francis announced that documents in the Vatican Secret Archives relating to the wartime pontificate of Pope Pius XII will be open to scholars in 2020. Researchers, particularly those interested in Catholic-Jewish relations, have pressed the Vatican to open the archives and allow a full study of Pope Pius' actions during the war, including what he did or failed to do for Jews during the Holocaust. "The church is not afraid of history, on the contrary, she loves it and would like to love it more and better, just as she loves God. Therefore, with the same confidence as my predecessors, I open and entrust to researchers" this wealth of documents, Pope Francis said. The pope met March 4 with supervisors, staff members and assistants working at the Vatican Secret Archives during an audience to mark the 80th anniversary of Pope Pius XII's election March 2, 1939. Staff at the Vatican Secret Archives, which holds the bulk of the documents related to the wartime pope, have been working for the past 13 years to get the material organized, catalogued and accessible to researchers.
Source
Will the researchers find any evidence to back up the claim that Pope Pius XII said the following:
Suppose, dear friend, that Communism is the most visible among the organs of subversion against the Church and the tradition of Divine Revelation. Thus, we will witness the invasion of everything that is spiritual: philosophy, science, law, teaching, the arts, the media, literature, theater, and religion.
I am concerned about the confidences of the Virgin to the little Lucia of Fatima. The persistence of the Good Lady in face of the danger that threatens the Church is a divine warning against the suicide that the modification of the Faith, liturgy, theology, and soul of the Church would represent.
I hear around me partisans of novelties who want to demolish the Holy Sanctuary, destroy the universal flame of the Church, reject her adornments, and make her remorseful for her historical past. Well, my dear friend, I am convinced that the Church of Peter must affirm her past, or else she will dig her own tomb.
I will fight this battle with the greatest energy both inside and outside the Church, even if the forces of evil may one day take advantage of my person, actions, or writings, as they try today to deform the History of the Church.
(Georges Roche & Philippe Saint Germain, Pie XII devant l'Histoire, Paris: Robert Lafont, 1972, p. 52-53).
Source