Pope Francis Guatemala DOOM! Prays For The Victims Of The Paradise, California Camp Fire + Next Day Guatemala's Fuego Volcano ERUPTS Thousands Flee!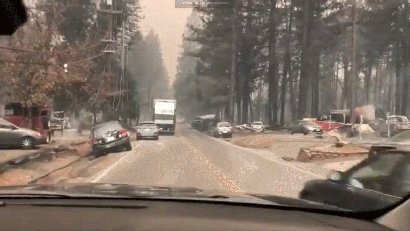 Water and fire will give the earth's globe convulsions and terrible earthquakes which will swallow up mountains, cities, etc...
Our Lady of La Salette 19 Sept. 1846
(Published by Mélanie 1879)
And then water and fire will purge the earth and consume all the works of men's pride and all will be renewed.
Our Lady of La Salette 19 Sept. 1846
(Published by Mélanie 1879)
Pope Francis then turned his thoughts to the hundreds of people affected by a devastating camp fire in California, United States. "My special prayer also goes to those affected by the fires that are plaguing California, and to the victims of the frost on the east coast of the United States" he said. The disaster in California has killed at least 76 people. Hundreds of searchers are sifting the rubble in the town of Paradise - that was burnt to the ground - looking for the dead, and nearly 1,300 people remain unaccounted for more than a week after the fire broke out. "May the Lord receive the dead in His peace, comfort their families and support those who are engaged in rescue efforts" the Pope said.
Source
NEXT DAY:
Red alert after Guatemala volcano erupts again, 200 flee
GUATEMALA CITY (AFP) - Guatemalan authorities on Monday declared a red alert after the Fuego volcano erupted again, forcing about 200 residents to flee. A fiery glow rose from the crater of Fuego which is erupting for the fifth time this year, one month after the last one and following a June 3 rain of rocks, ash and toxic gases that left almost 200 people dead and 235 missing. A spokesman for Guatemala's disaster management agency CONRED, David de Leon, said 214 residents who live on the slopes of Fuego, mostly in the southern municipality of Escuintla, were moved to safe zones and more will follow. He said about 2,000 people in total have been asked to leave the area of the 3,763-meter (12,246-foot) volcano, 35 kilometers (22 miles) from Guatemala City.
Source