POPE FRANCIS DOOM NOVENA! Prays For Jordan Flood Victims And Twelve Days Later The Town Of Paradise California Is Wiped Out By Fire - Dozens Dead Hundreds Still Missing...
Water and fire will give the earth's globe convulsions and terrible earthquakes which will swallow up mountains, cities, etc...
Our Lady of La Salette 19 Sept. 1846
(Published by Mélanie 1879)
And then water and fire will purge the earth and consume all the works of men's pride and all will be renewed.
Our Lady of La Salette 19 Sept. 1846
(Published by Mélanie 1879)
Fire and Water cause destruction in Jordan & California
First on the Pope praying for the victims of the Jordan flood:
27 OCTOBER 2018
Pope's condolence for victims of Jordan's flash floods
Vatican Secretary of State Cardinal Pietro Parolin sent a condolence telegram expressing the sadness of Pope Francis for the dead and injured in Jordan's flash floods.
Pope Francis has expressed his sorrow for the victims of Thursday's flash floods in Jordan that has killed at least 20 and injured about 3 dozen, mostly school children in a bus that was swept away.
The death toll from the tragedy near the Dead Sea shore rose to 21 on Friday, in what Civil Defense officials said was one of the deadliest incidents in the kingdom involving school children.
"Deeply saddened to learn of the tragic loss of life and the injury caused by the serious floods following heavy rains in Jordan, His Holiness Pope Francis expresses heartfelt solidarity with all those affected by this natural disaster," wrote Vatican Secretary of State Cardinal Pietro Parolin in a condolence telegram sent on the Pope's behalf to the Apostolic Nuncio in Jordan, Archbishop Alberto Ortega Martín.
"In a particular way," the cardinal wrote, the Pope "prays for the young people whose lives were lost, the healing of those injured and the consolation of all who grieve." While encouraging civil authorities and those involved in search and rescue efforts, the Holy Father invoked upon all the "divine gifts of strength and peace."
The incident began early Thursday afternoon when 37 students from an Amman private school, along with seven adult guides, as well as other visitors were taking a break in a popular tourist spot several kilometres from the Dead Sea shores.
Sudden heavy rains sent flash floods surging toward them from higher ground, sweeping people, vehicles and livestock to the shores of the Dead Sea, the lowest point on earth.
Source
03 NOVEMBER 2018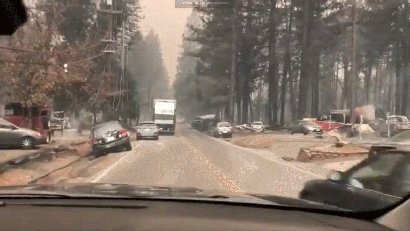 Fire in California
Pope Francis then turned his thoughts to the hundreds of people affected by a devastating camp fire in California, United States.
"My special prayer also goes to those affected by the fires that are plaguing California, and to the victims of the frost on the east coast of the United States" he said.
The disaster in California has killed at least 76 people. Hundreds of searchers are sifting the rubble in the town of Paradise - that was burnt to the ground - looking for the dead, and nearly 1,300 people remain unaccounted for more than a week after the fire broke out.
"May the Lord receive the dead in His peace, comfort their families and support those who are engaged in rescue efforts" the Pope said.
Source
"The great chastisement will come, because men will not be converted; yet it is only their conversion that can hinder these scourges. God will begin to strike men by inflicting lighter punishments in order to open their eyes; then He will stop, or may repeat His former warnings to give place for repentance. But sinners will not avail themselves of these opportunities; He will, in consequence, send more severe castigations, anxious to move sinners to repentance, but all in vain. Finally, the obduracy of sinners shall draw upon their heads the greatest and most terrible calamities. Mélanie
"We are all guilty! Penance is not done, and sin increases daily. Those who should come forward to do good are retained by fear. Evil is great. A moderate punishment serves only to irritate the spirits, because they view all things with human eyes. God could work a miracle to convert and change the aspect of the earth without chastisement. God will work a miracle; it will be a stroke of His mercy; but after the wicked shall have inebriated themselves with blood, the scourge shall arrive Mélanie
"What countries shall be preserved from such calamities? Where shall we go for refuge? I, in my turn, shall ask, What is the country that observes the commandments of God? What country is not influenced by human fear where the interest of the Church and the glory of God are at stake? (Ah, indeed! What country, what nation upon earth?) In behalf of my Superior and myself, I have often asked myself where we could go for refuge, had we the means for the journey and for our subsistence, on condition that no person were to know it? But I renounce these useless thoughts. We are very guilty! In consequence of this, it is necessary that a very great and terrible scourge should come to revive our faith, and to restore to us our very reason, which we have almost entirely lost. Mélanie
MARIA OF THE CROSS,
Victim of Jesus nee MELANIE CALVAT,
Shepherdess of La Salette
"I protest highly against a different text, which people may dare publish after my death. I protest once more against the very false statements of all those who dare say and write First that I embroidered the Secret; second, against those who state that the Queen Mother did not say to transmit the Secret to all her people."
Mélanie