Planes Trains And Automobiles DOOM! 50+ DEAD AS TRAIN MOWS DOWN PAGANS DURING HINDU FESTIVAL OF DUSSHERA.....20 Die Involving Limousine Carrying Party Goers In Schoharie, NY.......Next Up......Plane DOOM.......
DOOM events took place involving TWO modes of Transportation:
Planes
Trains
Automobiles i.e. Bus
First DOOM is Automobiles or Bus
06 OCTOBER 2018
TWENTY DIE INVOLVING LIMOUSINE CARRYING A WEDDING PARTY
NY crash that left 20 dead was 'like an explosion'
SCHOHARIE, N.Y. (AP) — A relaxed weekend afternoon turned into chaos at an upstate New York spot popular with tourists taking in the fall foliage when a crash involving a limousine left 20 people dead, officials said Sunday.
A person with knowledge of the investigation told The Associated Press that 18 of the victims in Saturday afternoon's crash at the Apple Barrel Country Store were in the limo and two were bystanders. The person was not authorized to discuss the preliminary information publicly and spoke Sunday on the condition of anonymity.
Local officials told the Times Union of Albany that a limo speeding down a hill hit bystanders at the store in Schoharie, about 170 miles (270 kilometers) north of New York City.
The crash "sounded like an explosion," said Linda Riley, of nearby Schenectady, who was on a shopping trip with her sisters and had been in their parked car at the time at the store, which sits near a T-junction of two New York state highways.
When she got out of her vehicle, she saw a body on the ground and broken tree branches everywhere, she said. People started screaming.
State police confirmed the death toll and said the crash involved two vehicles.
Customers in the parking lot were killed when they were hit by the limo coming down a hill on state Route 30 at "probably over 60 mph," the store manager, Jessica Kirby, told The New York Times .
In a Facebook post on Saturday, the store thanked emergency responders for their actions. The store posted Sunday that it was open "and could use your hugs."
Authorities didn't release names of victims or other specifics, but state police set up a hotline for family members. The National Transportation Safety Board is investigating.
An afternoon news conference is planned.
There was no information Sunday on the limousine or its integrity. But safety issues on such vehicles have arisen before, most notably after a wreck on Long Island in July 2015 in which four women on a winery tour were killed.
They were in a Lincoln Town Car that had been cut apart and rebuilt in a stretch configuration to accommodate more passengers. The limousine was trying to make a U-turn and was struck by a pickup.
A grand jury found that vehicles converted into stretch limousines often don't have safety measures including side-impact air bags, reinforced rollover protection bars and accessible emergency exits. That grand jury called on New York Gov. Andrew Cuomo to assemble a task force on limousine safety.
Limousines built in factories are already required to meet stringent safety regulations, but when cars are converted into limos, safety features are sometimes removed, leading to gaps in safety protocols, the grand jury wrote.
On Sunday, Cuomo released a statement saying, "My heart breaks for the 20 people who lost their lives in this horrific accident on Saturday in Schoharie. I commend the first responders who arrived on the scene and worked through the night to help. State police are working with federal and local authorities to investigate the crash, and I have directed state agencies to provide every resource necessary to aid in this investigation and determine what led to this tragedy."
Source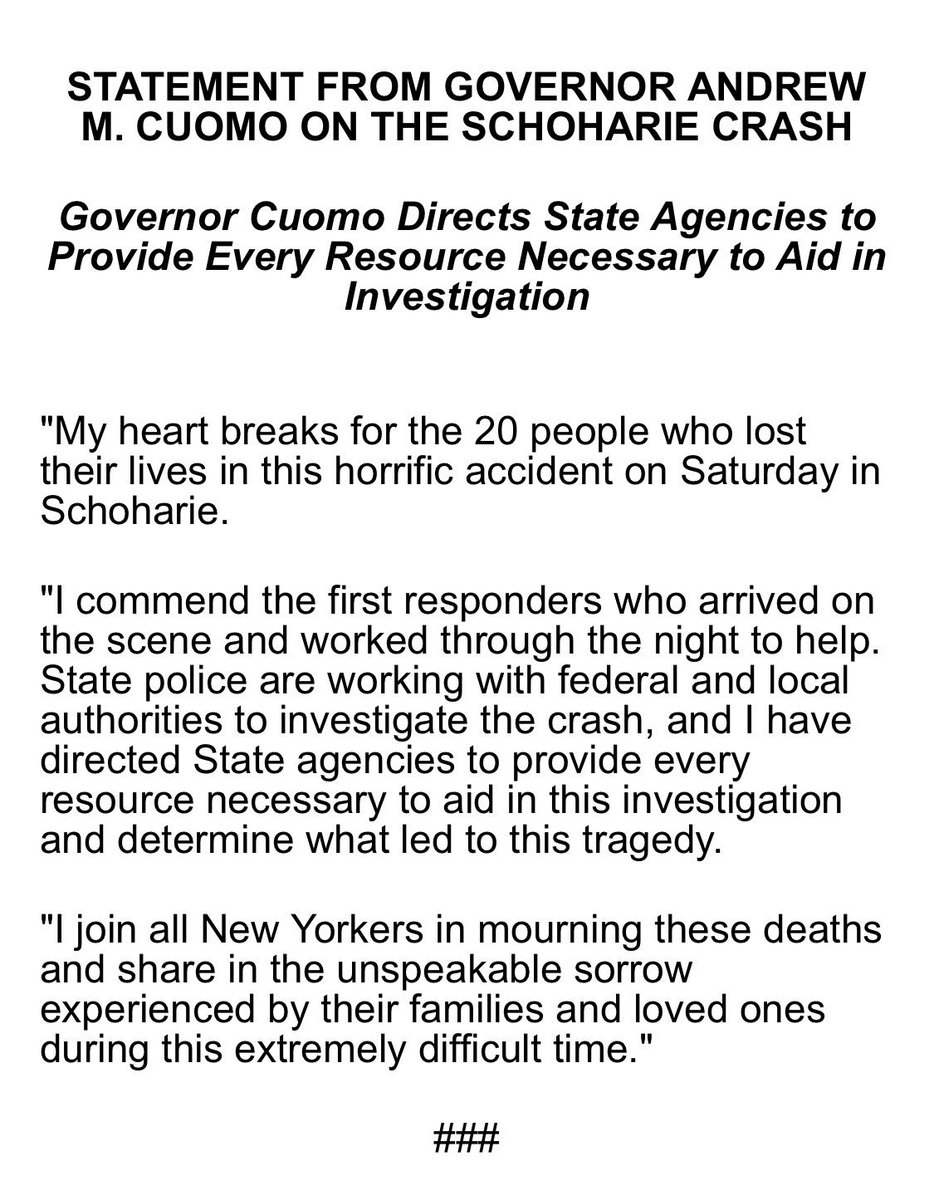 TRAIN DOOM........
19 OCTOBER 2018
AMRITSAR: 50+ DEAD AS TRAIN MOWS DOWN PAGANS DURING HINDU FESTIVAL OF DUSSHERA.
Amritsar: Scores dead as train mows down crowd
More than 50 people have been killed and 200 hurt after a train ran into a crowd near Amritsar in India's northern Punjab state, police told the BBC. The victims were standing on the railway tracks watching celebrations for the Hindu festival of Dusshera, eyewitnesses told BBC Punjabi. They did not hear the train approach as they watched a firecracker-filled effigy of the demon king Ravana burn. Officials said the priority now was to take the injured to local hospitals. Footage posted to social media showed the fast-travelling train hitting the crowd. The incident happened at about 18:30 local time (13:00 GMT), said local journalist Ravinder Singh Robin. Just moments before, crowds watching the firecrackers show were asked by organisers to move back - towards the railway tracks, reports say. The train that hit the crowds was travelling from Jalandhar to Amritsar.
Source
PLANE DOOM..........