THE HUNT FOR VIGANÒ: VATICAN SPIES TRACKING WHISTLEBLOWER...."VI-GA-NO!" "VI-GA-NO!" "VI-GA-NO!" "VI-GA-NO!" "VI-GA-NO!" "VI-GA-NO!" "VI-GA-NO!" "VI-GA-NO!"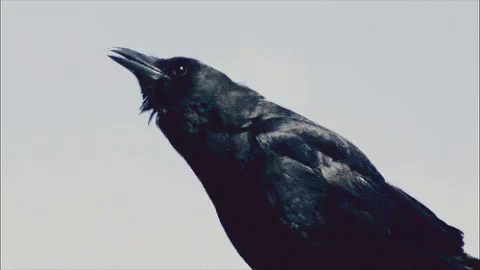 I Am Not the Crow ~ Viganò
As I said two weeks ago when Viganò first went missing and threw out his phone and bought a plane ticket to find some place to hide - he did so that he could not be given a written notice from the Vatican to appear in Rome or to be subpoenaed by the DOJ.
Viganò is a scoundrel.
From Church Militant:
Abp. Viganò cannot be prosecuted or even punished unless he first be given the opportunity to be officially notified in writing.
THE HUNT FOR VIGANÒ: VATICAN SPIES TRACKING WHISTLEBLOWER
By Rev. Michael X., JCL
Vatican officials are on the hunt for Abp. Carlo Maria Viganò.
According to sources within the Vatican, the Secretariat of State of the Holy See — under the direction of Pietro Cardinal Parolin — has communicated an instruction to its internal and external security services to use its "intelligence resources" to locate the physical whereabouts of Abp. Viganò. This request has been communicated not only in order to prevent more unpredictable damage to the image of Pope Francis and the Holy See on the world stage, but also to "prepare the terrain" for the former apostolic nuncio-turned-whistleblower to be prosecuted for alleged multiple crimes against Vatican and Church law.
The urgency with which the location of Abp. Viganò is being sought is all the more palpable since, according to canon 1507 of the Code of Canon Law and other procedural and penal norms of the Holy See and Vatican City State, Abp. Viganò cannot be prosecuted or even punished unless he first be given the opportunity to be officially notified in writing of the specific canonical and Vatican crimes he is alleged to have committed and be given the opportunity to defend himself against them.
As first reported by the very well-informed Baron Roberto de Mattei (Corrispondenza Romana, September 5), criminal counts are said to be in the process of being researched and drafted in a libellus accusatorius (canonical criminal complaint) for Viganò having allegedly committed perjury for his having breached pontifical and other forms of state secrecy in violation of, among other norms, the Instruction Secreta continere on the Pontifical Secret issued on February 4, 1974 by John Cardinal Villot, Secretary of State of the Vatican.
The specific Norms of Secreta being researched for applicability and evidence in support of potential prosecution include:
1. Art. I-4 for Abp. Viganò's alleged divulgation of extrajudicial denunciations received by him during his service of the Holy See regarding crimes against faith and morals and the Sacrament of Penance, and the process and decision pertaining to the handling of these denunciations regarding Theodore Cardinal McCarrick and other clerics referenced by Viganò in his testimony and in the articles of journalists to whom the archbishop is alleged to have disseminated such classified information;
2. Art. I-7 for his alleged dissemination of Vatican secrets gained by reason of office pertaining to appointments of bishops, specifically regarding the appointment of Cdl. Blase Cupich as archbishop of Chicago, Illinois;
3. Art. I-9 for his alleged divulgation of the electronically encrypted order transmitted by the Secretariat of State to Abp. Viganò regarding the appointment of Bp. Robert McElroy to the see of San Diego, California;
4. Art. I-10 for his breaching of "business or matters which are so grave in nature that they are placed under the Pontifical Secret by the Supreme Pontiff or a Cardinal of the relevant Dicastery."
News of the Vatican deploying its vast international resources to track down and prosecute Abp. Viganò are consistent with his assertions made to Aldo Maria Valli on their final encounter: that Viganò had "purchased a plane ticket," that he was "traveling abroad," that he "could not tell [Valli] where," that Valli "should not try to find him," that "his old cellular number will no longer be functioning," and that they "saluted each other one last time."
Viganò, in saying goodbye to Valli, appears to have known exactly what the worst elements of the Vatican and its agents are capable of. Let us hope he has taken every necessary precaution from falling into the hands of those who would wish him ill.
Source