Evil Portent: Seagull On Sistine Chapel Chimney When Pope Elected + 500 Seagulls Fly As Pope Francis Visits Vatican Nativity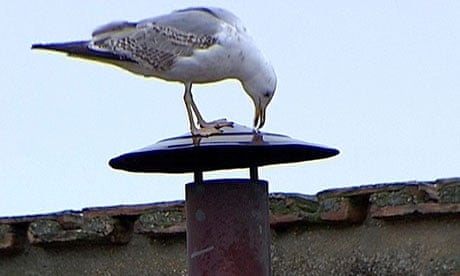 13 March 2013
Seagull Events:
Pope named after Francis of Assisi heralded by gull atop Sistine chimney
The dove has traditionally represented the Holy Spirit but it was a bird with a rather less divine reputation that heralded the name of the new pope. As the crowds massed in front of the Vatican, a seagull alighted on the chimney from which smoke billows to indicate the outcome of the papal ballot in the Sistine Chapel below.
Source
26 December 2017
'Eerie and ominous' sign appears as Pope Francis visits Vatican Nativity
Something very eerie and ominous happened that evening. At exactly the same time as the Pope left St. Peter's Basilica and walked to the crèche in St. Peter's Square, a squabble of about 500 seagulls suddenly flew up from behind the basilica and circled around the crèche. They swarmed above the nativity scene, squawking and squealing for about the exact time it took for the Pope to walk from the basilica to the crèche. They then disappeared into a night sky lit up by an almost full moon.
Source